It's not always easy to admit you need (or want) help to achieve a goal. We are proud of you for taking the initiative, and want to help you make your dreams a reality as much as possible. The biggest cost to you? Your dedication, your discipline, your commitment.
Not to us. To yourself.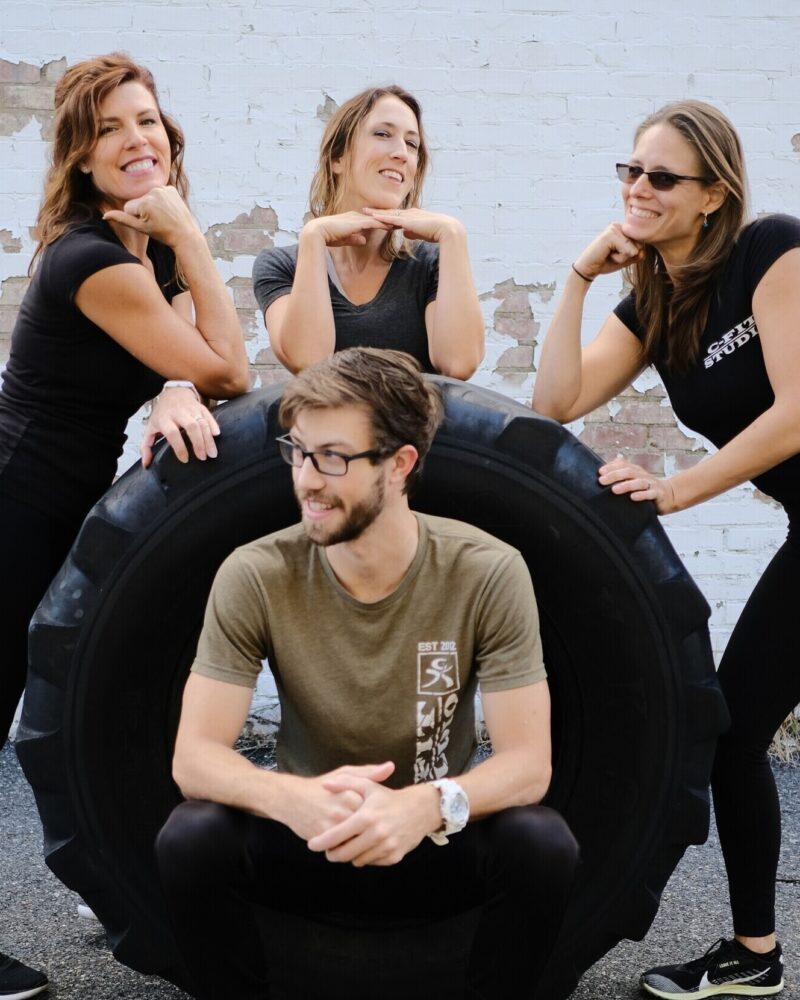 Personal Training, one-on-one
begins at $35/half hour
Personalized sessions can be 30, 45, or 60 minutes
Small Group Personal Training
begins at $50/half hour ($25/person/half hour)
Small group personalized sessions can be 30, 45, or 60 minutes
Corrective Exercise
begins at $35/half hour
Get moving with a personalized, comprehensive mobility program
Amplify Sauna, existing program clients
begins at $0.55/minute
Enhance your results and recovery with our medical-grade, full-spectrum infrared sauna
Amplify Sauna, guest
begins at $0.65/minute
Enhance your results and recovery with our medical-grade, full-spectrum infrared sauna
No Brainer Trainer, 8 or 12 sessions
begins at $280/$420
Get virtual, recorded PERSONALIZED workout programs sent straight to you with follow-along video demonstration and cueing
All-access monthly pass to all in-studio classes
Best described as "therapeutic stretching," our yoga class aims to increase flexibility, mobility, and stability to address problem areas and alleviate pain and increase performance. Included in KAOS Kickstart.
KAOS+ Class, Kinesthetic Athletic Olympic Systems
$17/class
Work hard, leave sweaty, feel accomplished. Included in the KAOS Kickstart. Includes CORE and body-sculpting enhancements on varying days.
HIIT the Rowed Class
$12/class
The melting pot of classes. Spinning, rowing, and high-intensity interval training combine to leave you feeling exhilarated and amazing. Included in the KAOS Kickstart.
Spartan/OCR Training
$12/class
Obstacle-course Race Training served off-site at various locations, specifically geared around upper body strength, grip strength, and lower body endurance to help you maximize your performance at the next race. NOT included in the KAOS Kickstart.
Studio Access, Bike, Echo Air Bike, or Rower
$7/half hour
Get it done and burn some extra calories with a 24-hour advance reservation for one of our bikes or rowers.
WOD - Workout On Demand
$10/half hour
Self-led, trainer-designed workouts made with you in mind, done in-studio, on your time. 24-hour notice is required.
Beer Yoga, event
$20/event
Hosted at Nansemond Brewing Station regularly throughout the year. The cost includes an hour of yoga and your choice of a single beer or beer flight. BYOM (mat)
Ignite with C-FIT, event
$20/event
Hosted at Nutrition Ignition regularly throughout the year. Get a rush of endorphins and your choice of energy tea or meal replacement shake that are far too delicious.
PNOE Metabolic Testing
$COMING SOON
Get accurate SCIENTIFICALLY-SOURCED data to identify structural limitations (like cardio, respiratory, strength, or metabolic) that inhibit progress, performance, and basic aspects of life. Why guess when SCIENCE can tell you exactly what YOUR body needs?
A la carte & additional services
Behavior Change Partnership, Mind Meld
$100
Our BCP's initial meeting. A deep, explorative look to best definte your wellness/fitness history, goals, and obstacles
Behavior Change Program, 4 sessions
$150
Receive a once weekly, 30-minute accountability coaching call during your BCP
Blood Pressure Check
$FREE
Receive a free blood pressure check at any appointment
Our state-of-the-art digital scale tracks your weight, BMI, body fat/muscle and visceral fat percentages, and more.
Posture is the literal foundation on which our entire body is built. One kink in the chain can lead to a host of issues. Correct them with our help!
Functional Movement Screening
$40
Different than the Posture Assessment, the FMS lets us see how you move in real life. Identity and correct movement issues to alleviate pain and maximize performance. **complementary with all existing personal training clients**
A deeper extension than our FMS, this tackles balance, coordination, strength, and control with an athletic base that comprises of what it means to be "generally fit."
This assessment combines all the benefits of the Posture, FMS, and Fitness assessments with added challenges of speed, power, and agility, and can take more than 60 minutes.
Our open gym offers an amazing, spacious location for events, with excellent acoustics. Two (2) hour rental minimum.
Prices are subject to change, but we try to stay as affordable and stable as we can.
Nothing should stand in the way of you and your success.